9th September 2022
'Failure is not the falling down, but the staying down' – Mary Pickford. The students of SIBM, Hyderabad, understood the real meaning of this on the first day of SymbiTalks 7.0.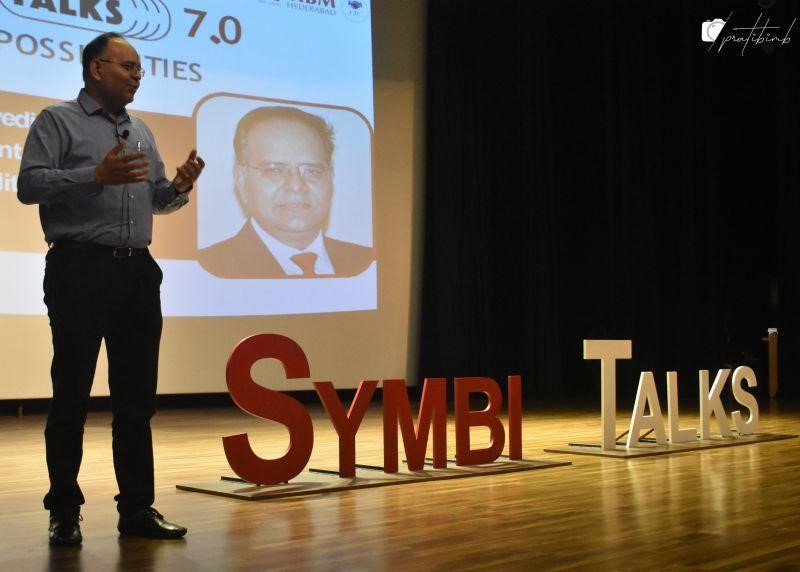 The invigorating event began on an inspirational note as our first speaker, a true soldier at heart- Mr. Ankur Chaturvedi, who is an AVP Business Excellence & Quality at Emami Ltd, presided over the event. He spoke on the theme "Prism of Possibilities," discussing how one must not be bogged down by failures but instead look at them as a possibility presented. He emphasized having an optimistic point of view and looking at the different possibilities present in every situation. He further discussed why one needs to never give up completely and have the courage to keep propelling.
Mr. Chaturvedi provided the students with the ultimate mantra for success- "Perseverance". The students were inspired by him as he drew anecdotes from his own life. The stories from his childhood and his exhilarating journey of serving the nation as a soldier and also about how life holds different plans at its every step. He further narrated his corporate journey, giving raw insights into how many of his strategies didn't always work and yet how he never lost his perseverance to look for the next step to achieve success.
Through such an insightful address, Mr. Chaturvedi guided the students on the prism of possibilities that life holds, whether it is for seeking happiness at achieving our aspirations or for successfully thriving in a corporate world. He imparted to the students with a valuable takeaway, as according to him, "One can only look at the possibilities ahead of them if they can accept failure, and not be dispirited by it." 
– Aishwarya Rateesh
Corporate Interaction Cell