10th September 2022
SymbiTalks has always been a platform for talks on emerging topics and thought-provoking ideas. For this year's SymbiTalks 7.0 , an interactive discussion named "Ardent Chats" was introduced.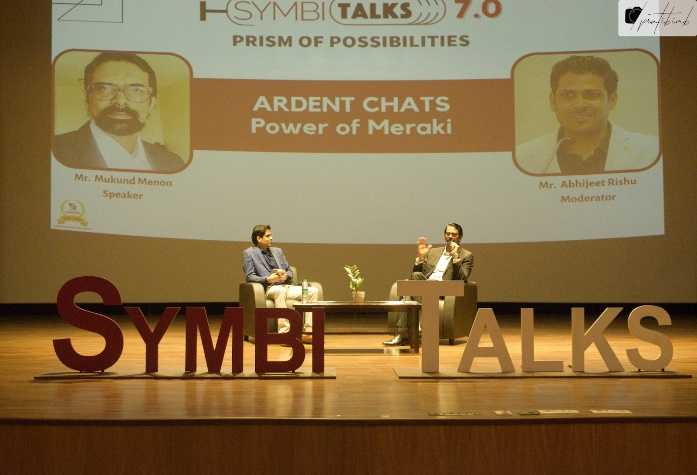 This event entailed a deep conversation with the speaker, Mr. Mukund Menon, the founder of Liveware People and the Advisor – HR, IT & Logistics at TSRTC, and Mr. Abhijeet Rishu, an alumnus. This discussion was to promote the students' perception regarding the topic "Power of Meraki".
The speaker, Mr. Mukund Menon, highlighted that every person has opportunities and that every action they take would result in success. Mr. Abhijeet then continued by adding to the speaker's statement that in order to effect change, each individual must dedicate their all to their work and every moment of their life. From his experiences, Mr. Menon stated that possibilities are always in your hand. He further commented asking the audience, "What if you are going to create an opportunity and eventually bring something pathbreaking?" They further discussed the importance of recognition and involvement in the art of Meraki.
Additionally, Mr. Menon talked about his experiences regarding easing corporate life and his interest in Meraki and capacity building. While concluding this interactive session, he offered the following pieces of essential advice to the students: "Focus inside; your inner engineering is essential," "Improve entrepreneurial thinking", and "Get information, talk to people, and take risks".
At the end of the discussion, the students were profoundly thankful and felt enlightened through his thoughts on the power of Meraki.
– Anwesha Pati
Corporate Interaction Cell